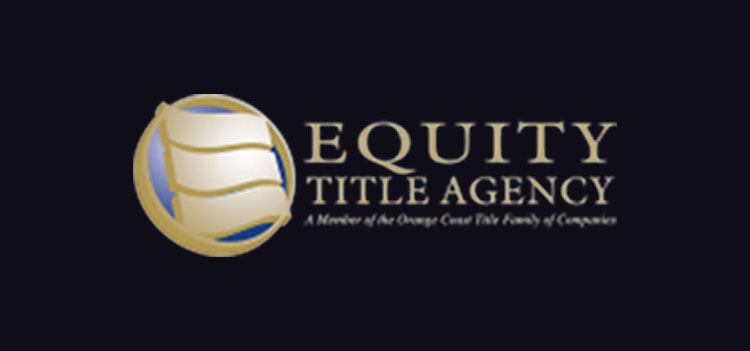 Equity Title Company has provided the best in people and technology to ensure that real estate transactions close in a friendly, efficient, and professional manner. Our prosperity and continued growth can be attributed to our focus on what has made us successful: our satisfied customers. Our Staff of committed professionals is focused on giving our clients a competitive edge in their marketplace. At Equity Title Company, our technical expertise and "Service makes the difference" attitude continually put us ahead of our competition. Our mission is to provide consistent superior, quality service for our customers. With our philosophy of "commitment to service," Equity Title Company plays a vital role in insuring the American Dream.
Equity Title Company is growing fast and will be opening two new branches this year along with adding staff in existing offices. If you want to work with a company that has a wonderful history, great benefits, a Senior Management Team that understands the business, and great people, then contact us today to discuss your future! Please submit a cover letter along with your resume.
Equity Title is looking for qualified applicants for a variety of open positions within our company. Below are the open positions.
Business Development Manager –
Positions open in: Scottsdale, AZ | Litchfield, AZ
Job Description:
• Leads our efforts for product market expansion, product marketing strategy, product sales, establishing partnerships and strategic relationships for the expansion of the business in their territory
• Develops marketing and sales strategies in conjunction with sales manager Develops "elevator "speeches, positioning statements, and other sales resources
• Liaison with other functional groups for product features, enhancements, marketing, operations, customer support, and escrow staff
• Maintain current knowledge of products offered by competitors
• Management of strategic efforts and projects related to assigned products and services
• Be the spokesperson and customer-facing product specialist that can explain in detail the application of the products and services to industry business needs
• Create and provide educational and sales presentations to industry trade associations and other external groups, internal groups, and customers
• Makes outbound lead generation and sales calls to potential and existing customers by telephone and e-mail to qualify leads and sell products and services
• Handles inbound sales lead calls for qualifying products and services to convert calls into sales or routes to appropriate sales representative
• Attend trade shows and other industry related meetings.
• Some local travel required
Job Qualifications:
• Outside sales experienced required
• Knowledge of Microsoft Office applications.
•. Ability to write routine reports and correspondence. Ability to speak effectively before groups of customers or employees of organization.
• Identifies and resolves problems in a timely manner; Gathers and analyzes information skillfully; Develops alternative solutions; Works well in group problem solving situations; Uses reason even when dealing with emotional topics.
• Manages difficult or emotional customer situations; Responds promptly to customer needs; Solicits customer feedback to improve service ; Responds to requests for service and assistance; Meets commitments.
• Speaks clearly and persuasively in positive or negative situations; Listens and gets clarification; Responds well to questions; Demonstrates group presentation skills; Participates in meetings.
• Balances team and individual responsibilities; Exhibits objectivity and openness to others' views; Gives and welcomes feedback; Contributes to building a positive team spirit; Puts success of team above own interests; Able to build morale and group commitments to goals and objectives; Supports everyone's efforts to succeed; Recognizes accomplishments of other team members.
• Writes clearly and informatively; Edits work for spelling and grammar; Varies writing style to meet needs; Presents numerical data effectively; Able to read and interpret written information.
• Approaches others in a tactful manner; Reacts well under pressure; Treats others with respect and consideration regardless of their status or position; Accepts responsibility for own actions; Follows through on commitments.
Escrow Officer-
Positions open in: Chandler, AZ | Litchfield, AZ | Scottsdale, AZ
Job Summary:
The Escrow Officer maintains ownership and customer support through-out the life of a file. Additional duties include new contract/order data review and entry, creating new files in Impact along with assigning processing tasks to the CSU accordingly. In this role, the escrow officer will be the point of contact with the client/customer. The escrow officer takes ownership to ensure progression of the file, fulfills preliminary and secondary contact to identify and obtain required or missing information, provides customer service and communicates with all parties to the transaction through-out the life of the file.
-Interface with customers to communicate file status, resolve queries, and avoid\solve problems that arise.
-Monitor, assign and complete tasks as provided in Impact and departmental reports
-Act as liaison with other departments and business units for escalation and vendor management
-Act diligently in ensuring completion of curative matters
-Screen new orders for necessary information for thorough order entry completion
-Receive and initiate proactive customer service telecommunication
-Locate necessary information utilizing SharePoint and/or Infodex
-Communicate with the customers and internal workgroups as defined in process
-Contact and welcome clients/customers for each order
-Schedule all real estate settlements in accordance with lenders, signing agents, customers, etc.
-Conduct mail away closings and maintain original documents when required
-Re-work if needed and provide final figures to clients/customers accordingly
-Provide wiring information or certified funds information to clients/customers
-Ensure quality work in a timely and efficient matter
-Meet or exceed pre-determined Service Level Agreements as created by the company
-Monitor and complete tasks as provided in workflow, work queue, and departmental reports
-Complete other duties as assigned
Job Qualifications:
-Must have high school diploma or equivalent, associate's degree preferred
-3+ years escrow\title industry experience
-Intermediate MS Office skills
-Impact experience, a plus
-Call center experience desired
-High level of professionalism and integrity required
-Excellent verbal and written communication skills
-Strong problem solving skills
-Must have the ability to be self-directed and work independently in a fast paced environment
-Ability to work well as part of a team
Thank you for your interest in positions with Equity Title!